Podcast Listening, Lip Reading, Trend Watching, and oh so Much More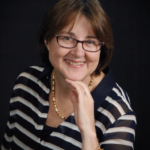 By Jenifer Hartt, Hartt and Mind Market Research, Hartford CT, Jenifer@HarttAndMind.com
Podcast editor Foster Winter made our Conversations in Depth podcasts available on VIEWS' new website at https://qrcaviews/features/podcasts, iTunes, iHeartRadio, as well as QRCA.org! So, give him a shout-out about topics and interviewees you'd like to hear more about or from. We're listening—we want to hear from you.
We switch from listening to lip reading in our cover article Avoid Lip Service Input by Reading Lips (and More). Dan Hill shows QRCs how to decode participants' facial expressions to better decipher when to dig below their surface responses. The article is a
fast and entertaining read.
Debbie Bray takes us on a romp around the globe with international research on kids. Her article, Connecting with Young People Around the World, is full of tips on how to keep wiggling kids in their seats (or doing the Floss dance) and pointers on how to design research that creates breakthrough insights. You're in for a treat.
Sit on the Iron Throne or bike through Provence all while shopping. In Trends, Shaili Bhatt writes how brands are creating retail experiences that immerse shoppers in another world and generate delight, play, and wonder. She asks whether experiential retail will increase brand loyalty and lifetime spend. Drop us an email (or comment online) with your thoughts.
If you're not content to read about trends and want to learn how to spot them, VIEWS
has two great options. Trend researcher and trainer Els Dragt will show you the secret of looking sideways and outline the process she uses to identify the patterns of change. For another perspective, Kay Corry Aubrey's review of The Trend Forecaster's Handbook by Martin Raymond highlights other trend forecasting tools.
Mike Carlon is back with The Joke's on You: The Parallels between the Business of Stand-up and the Qualitative Research Game. A veteran researcher, writer of laugh-out-loud books, and now a stand-up comedian, his Business Matters article is full of tips that new and experienced moderators can bring to their trade.
A fan of applying Myers-Briggs to my qualitative work, I was captivated by Steven L. Werber's article, Mining the Psyche: Achieving Greater Depth Using Psychographics in Your Practice. Steven generously shares a psychographic system he developed; see how you can use psychographic profiles to recruit, better moderate, and enhance your client offerings. Fascinating.
Check out what Richard Shotton (author of The Choice Factory who is using behavioral science biases to turn brand fortunes around) has to say to Kay Corry Aubrey in our Luminaries interview. Wow.
In Online Qual/Tech Talk, Robin Wedewer dives into how you can take advantage of Evernote's powerful tools to make you smarter and more productive. Smarter? Sign me up! While in the getting smarter mode, check out Susan G. Abbott's review of How to Take Smart Notes, by Sönke Ahrens. Susan's summary of how to write notes that you'll remember, find again, and use to carry bigger work forward is worth cutting out and pasting to your computer.
Innovators and launchers will enjoy Gloria Watson's review of The Right It by Alberto Savoia. Susan Fader wraps up the book reviews with a peek into Alex Rosenblat's Uberland: How Algorighms are Rewriting the Rules of Work and its deep case study of Uber.
To help you get in the mood for QRCA's 2020 Annual Conference, Austin real estate agent Bridget Guess shares the inside scoop on great places to eat, catch live music, and explore while at QRCA's conference. Warning—this Travel Wise author has a gift for bring Austin to life—I'm looking forward to exploring Austin's Museum of the Weird, drinking a cup from Jo's Coffee, and maybe (if my knees are up to it) kicking back at The White Horse. Hope to see you there!